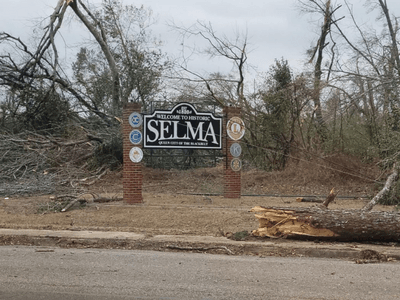 In many ways, what it means to be the Church is to be a part of what the Holy Spirit is doing in our world. We are the body of Christ after all, and the risen Savior is at work in all kinds of ways, bringing healing, comfort, hope, and sustenance to those in need. As we take part in those kinds of actions in Christ's name, we are demonstrating the truth and the power of the gospel to the world.
Of course, the body of Christ is not limited to IPC. It is all over our city, our state, our nation, and our world. And part of our calling is to collaborate with, learn from, and provide support for our brothers and sisters in Christ in other parts of the body, especially in times of need. But we don't only help other Christians. Jesus has called us to be a neighbor to anyone we encounter who is in need: friend, enemy, or stranger. And right now, we have a lot of neighbors in the Black Belt who have just experienced terrible devastation in their lives from the recent storm. Selma in particular was hit very hard.
The Foundation has just allocated $10,000 to the Black Belt Community Foundation to provide disaster relief. Our congregation will also be sending money to help. If anyone would like to add to our church's gift, you may do so online.
One of the reasons I have been talking about increasing the amount of mission funds we set aside in our budget is so that we can provide more help when things like this happen. It is part of what it means to be the body of Christ. And it's what I believe Jesus is calling us to do. Remember, as Jesus said, to whom much has been given, much will be expected. So let's show the love of Christ to our hurting neighbors with our generosity!
---
One Gift Can Change the Lives of Many
If you wish to contribute, please choose one of the following options:
Give by Check: Please note 'Selma' in the memo line of your check. Checks can be mailed or delivered to IPC or placed in the offering plate on Sundays.