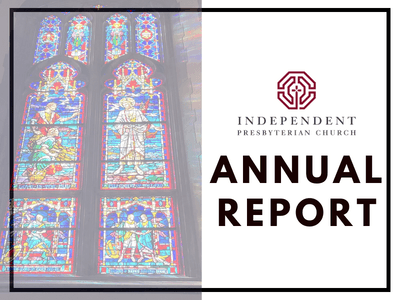 In the pages of IPC's Annual Report, you will get a glimpse at the wonderful year we had at IPC in 2022. It was our third year of COVID-19, but we finally saw a glimpse of normalcy again and were able to return to church as usual. It was also my first full year as your pastor as my family and I continued to adjust to our new life here in Alabama. You all have been so gracious to us, and we are extremely grateful for your kindness and hospitality.
I have been continually amazed at the ways this church cares about one another and the world around us, and your increased generosity in 2022 was more evidence of that. The Lord has blessed us so that we might bless others in his name. It is wonderful to be a part of a church that wants to make a difference in our world in the name of Jesus!
Thank you to everyone who generously gave and supported our ministry so that we were able to be such a blessing throughout the year, largely as a result of our truly outstanding staff. After a few excellent additions in 2022, our staff is nearly complete. I feel so grateful to get to work with so many talented and committed people. I hope you all realize how blessed we are to have them.
There are exciting things afoot at IPC as the Holy Spirit is clearly on the move. 2022 was a fantastic year for us, but I believe that the best is still yet to come!
---
Flip through the pages of this year's report