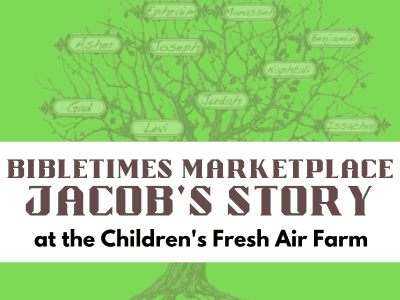 As the Children's Fresh Air Farm's Centennial year has begun and we look back on 100 years of IPC's mission to our local community, one theme continues to emerge: relationships. There are too many to list here, but we have learned how those connections transformed countless lives as we gathered in Highland Hall over the month of January for our Centennial speaker series. It has been so inspiring to learn about how our early church and community leaders really made it their life's work to serve children who needed it most in our city.
Intergenerational bonds are one of my favorite things about IPC. I have come to truly admire and revere members of all ages who always say yes when I have asked for help in constructing items for the atrium or volunteering at a Spring Fun Day at the Fresh Air Farm. One of the best examples of living in community as a church family happens each June at Bibletimes Marketplace. If you've never seen it in action, I invite you to head up to the Farm for a visit sometime during June 5-9.
Children and adults spend each day living in groups as one of the twelve tribes of Israel. Adults gladly serve as tribal moms, craft helpers, kitchen volunteers, worship leaders, and bus chaperones, to name a few roles! IPC Youth serve as tribal assistants, lifeguards, and drama coordinators. Children ages Kindergarten-6th grade have the opportunity to learn more about the Biblical stories of Joseph, Moses, Jesus, David, or Paul. They play games in the gym, create in the marketplace, throw pots in the potters' shed, run or slip and slide on the field, and cool off in the swimming pool. Registration is currently open and campers can still sign up for this summer.
At the end of the day, kids are exhausted in a way that only a summer day spent outside playing with friends can provide. On the last day of Bibletimes, these happy and tired campers join their Tribal Moms and Tribal Assistants to sing in the marketplace, songs that they've been learning all week in chapel time, or "synagogue," as we call it at Bibletimes. The program ends with singing Shalom Chaverim in Hebrew and English together. Again, if you have never seen Bibletimes in action or just want to feel good about our church family, please come to the closing program this year on June 9 at the Farm!
---
Children's Fresh Air Farm Appeal Sunday
On May 14, we will have CFAF Appeal Sunday at IPC and celebrate Bibletimes Marketplace by sharing a 100-year birthday cake after worship. You can wear your old Bibletimes t-shirt to church, or buy a new Centennial t-shirt to wear this Spring. We hope you will join us!
---
Fundraising at the Farm
Swimming is a favorite and necessary cooling-off event at the Farm in the summer, both for Bibletimes Marketplace and the Summer Learning Program. Fundraising is ongoing to build a new poolhouse to replace our current cinder block structure from 1954. Accessible restrooms and a shaded porch area will be added.
Please contribute to this project to be enjoyed by families into the next century!
Make a pledge or donation online.
Donations can be delivered to the church.
Submit gifts via your mobile phone by texting POOL to (205) 927-3100 and following the step-by-step instructions.
Questions: Please contact Catherine Goudreau, Director of the Children's Fresh Air Farm, at (205) 790-1665 or
cgoudreau@ipc-usa.org.