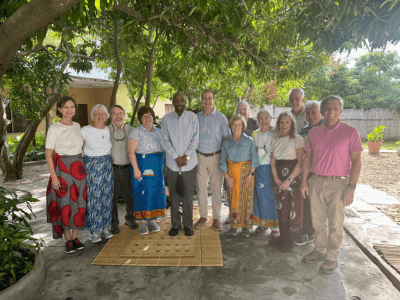 Greetings from your Mwandi Mission Zambia Team!
This is truly a small snapshot of our journey (click to view photo book). Our team is well and so inspired by everyone we've met. For those of us newbies, it's been so wonderful to watch as our veteran team members are greeted by so very many longtime friends here! And instantly, we are all surrounded by love and handshakes turned to hugs. In addition to, "Where is Susan Clayton?" and "Where is Peggy?" We have shared their and all of IPC's warm greetings and love and have a thousand or more photos to share. For now, we'll share a few.
God's mission is thriving here in beautiful Mwandi Mission Zambia, and we have been deeply missed. Our shared work, mission, and faith have woven us tightly together as One in Christ.
Here are highlights of our week so far:
We've loved meeting with Ida and Keith Waddell. They are dear to all of us. Ida is brilliant and can do everything well, including the development and funding of the new oxygen supply plant. She is the great connector for all of Mwandi Mission. Keith is also brilliant especially passionate about the education and skills development of young people. Since IPC was last here, he has developed brick-making workshop and employs young people who might struggle with conventional classroom teaching and pays them a living wage. They also have a chicken coop, piggery, and fishery. It's amazing!
We had an unexpected visit with Dr. Peggy Schrieber, Board Chair, Mwandi Hospital American Partners. She and our wonderfully talented and brilliant Mwandi Coordinator Lawrence Tinotenda Kamba shared the architectural drawings of the hospital renovation and expansion. We later toured the Hospital, Mother and Child Clinic, and we were awed by the oxygen supply plant and the shipping container that is their solar and battery power plant.
Some of our group loved attending choir practice on Tuesday night, where they danced and sang and made new friends who now recognize them as we walk through Mwandi.
We had a great, 3.5 hour tour of the Mwandi Village and saw the Orphans and Vulnerable Children's Center (OVC) and learned how homeless children are schooled and cared for. We served them lunch after sharing songs and the Bible story of Jesus welcoming every child. We saw the Primary and Seconary schools, met the Senior Teacher. We were intrigued about the way homes are constructed and witnessed smiles on many children who ran up to greet us.
We worshipped with the United Church of Zambia last evening, where the new Rev. Sheba Mwambazi Kilalo unexpectedly asked our Rev. Melissa Self Patrick to lead worship and preach. We enjoyed worshipping together, and Melissa gifted Rev. Sheba a rivers of living waters stole as a remembrance of our oneness in Christ.
Our medical doctors have made a significant impact in a very short period of time at Mwandi Mission Hospital. Among various tasks, including assisting in the Mother and Child Center and observing the theatre (operating room), Tommy Thomson, Carol Smith, and Susan Eiland have discovered and cleaned an entire eye clinic. It has been a most wonderful resurrection story! With the help of a couple other IPC members, Susan has been assisting with many people's eye needs. Your generous donations of hundreds of eye glasses are helping many people- thank you!
The other 9 of us have enjoyed painting contemporary cartoon characters - think Peppa Pig, Chase from Paw Patrol, Bluey and Bingo, and Cocomelon- on the Preschool outside walls. Our greatest delight - and relief- came when the children escaped from the playground and squealed and broke into the Paw Patrol song! Ask Jean Shanks to show you her video. Meanwhile, Rowena Macnab painted a beautiful tree with the days of the week inside the Preschool entrance, and she and Larry Moore painted a rainbow on the outside wall our last day. Foster and Doc painted "Be Kind" at the front entrance behind Winnie the Pooh. And today Foster captured more video as we shared heart stickers while these 3, 4, and 5 year olds sang their ABCs and then the Zambian National Anthem.
Today we met Chief Yeta and enjoyed a wonderful visit. He was glad to see his IPC friends of many years and welcomed all of us first timers. Chief Yeta is a humble and inspiring leader and he sends his deep thanks to IPC and spoke highly of Rev. Susan Clayton.
Love from Mwandi...