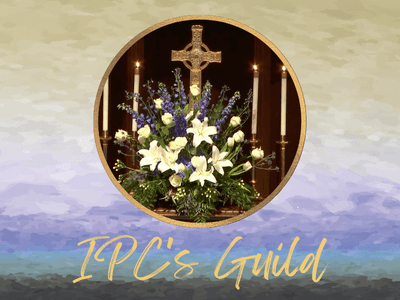 The IPC Guild is a group of 70 energetic and dedicated women who combine their efforts, time, and skills in various duties associated with the care of the Sanctuary, worship, and sacred services.
The Guild has been in service since its authorization by the Session in 1940. Over the years, IPC Guild members have had the joy of shared responsibility among their specific committees to work behind the scenes in specific duties such as arranging flowers for the sanctuary, baking communion bread, setting up for Holy Communion, scheduling acolytes, serving as hostesses for weddings, baptisms, and funerals, making Palm Crosses for Palm Sunday, decorating the Chrismon tree and serving as Holiday House hostesses.
This gratifying work is the priority for Guild Membership. Committee work can be done on weekdays, weekends, or holidays, based on committee placement. Members agree to a 5-year commitment which can be renewed for a total of 10 years of service. Members are required to attend four of the eight monthly meetings throughout the year (excluding summer months) which are held on the second Monday of the month at 11 am.
Serve to the glory of God in a special way while learning more about your church and its history and building lasting friendships through your Guild committee experience. Pick up a Guild Interest form near the elevator and return it by March 31. You may also find the form online.
2023/24 New members will be announced in May and will be installed at the September 2023 meeting of the IPC Guild.
---
Apply by March 31
New members are needed to serve on IPC's Guild. Please complete the online form to let us know your interest»