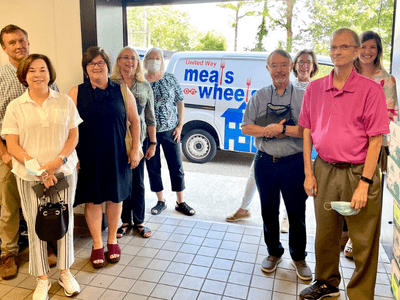 The IPC Foundation Grants Committee has the annual responsibility of reviewing grant requests from many local, national, and global organizations. Inspired by the history of the IPC Foundation, and the remarkable result of awarding $2+ million in grants in 2022, the 2023 committee will commit many weeks, days, and hours to the following multi-step IPC Foundation (IPCF) Grants process.
From February until June, IPCF Small Grants of up to $7,500 will be reviewed and awarded monthly. These grants represent smaller needs that do not require the effort of a formal grant application. From June through November, the committee will conduct the Foundation's primary grants cycle known as the IPCF Annual Grants Process. Grant applications will be evaluated during the summer and fall, and site visits will be made where feasible. During this time the IPC Youth Grants Committee will follow a similar process and present their recommendations to the Foundation Grants Committee. The combined recommendations will be presented and approved at the November meeting of the Foundation Board. Distributions of the IPCF Annual Grants will be made in February 2024.
During the year, Admission Directors at Protestant Christian theological seminaries and small Protestant colleges and universities can submit needs-based student applications for IPCF Scholarship Grants (up to $5,000) at any time. These applications are jointly approved by the IPC Director of Community Ministries and the Executive Director of the Foundation.
Finally, each year there are needs too urgent to await the Small or Annual Grants cycle, so the IPCF maintains a reserve for Emergency Grants. In 2022 the Foundation approved $36,500 in grants for emergency assistance, ranging from storm shelter and food relief in the Black Belt of Alabama and the country of Haiti, to aid sent as a result of the war in Ukraine and economic crisis in Syria and Lebanon. To date in 2023, the Foundation has donated $10,000 in relief following tornado devastation in Selma, Alabama.
Members of the IPCF Grants Committee represent the IPCF Board, the Community Ministries Team, and the Session/Foundation Liaison committee. As a team, each member honors the vision, compassion, and generosity of the families and individuals who, since 1943, have helped build and grow the remarkable IPC Foundation. They look forward to continued success in 2023.