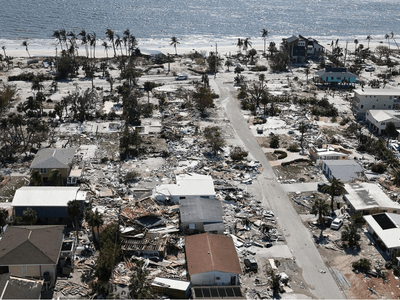 I'm sure you've all been watching the devastation wrought by Hurricane Ian on Florida, just after watching Hurricane Fiona inflict significant damage on Puerto Rico and the Dominican Republic. I'm sure, like Rebecca and me, some of you have friends with homes that were in the path of Ian. It is difficult to feel so helpless to do anything about it. One of the primary ways our denomination helps in these situations is through Presbyterian Disaster Assistance (PDA). If you would like to make a donation to help with hurricane relief, you may do so here.
It is my hope that we can develop funding at IPC, apart from the wonderful help often contributed by the Foundation, to send financial assistance in situations like these. Right now, we have very few funds set aside in our budget to serve the needs of the world for whom Christ died and to support those doing the work of ministry in ways or places that we cannot do ourselves. Ultimately, it is my hope that we can become a tithing church, setting aside 10% of our pledge dollars to give away to the mission of Jesus Christ outside our doors, including disaster relief, something that will continue to be a consistent need. For that to happen, we will need a significant increase in our pledge dollars over the next few years. But I am confident that we will get there because I have witnessed the generosity of this congregation and its commitment to Christ's mission in this world.
---
Presbyterian Disaster Assistance (PDA)
PDA enables congregations and mission partners of the PCUSA to witness the healing love of Christ through caring for communities adversely affected by crisis and catastrophic events. 
It has reached out to presbyteries in Ian's path in Florida, Georgia, and South Carolina as well as to partners in Cuba, where Ian made landfall early Tuesday as a Category 3 hurricane. The hurricane plunged the island into darkness, partially due to power being turned off ahead of the storm to prevent electrocutions and fires. 
We join together to lift our prayers for those who have already been impacted by Ian and those about to be impacted. As people of faith, we stand ready to partner with presbyteries, congregations, and communities to meet the immediate and long-term needs.