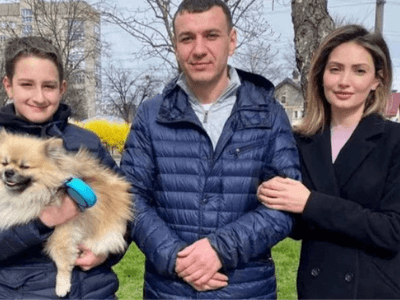 In the mid 1990's, we met the Timtchenko family when they moved from Ukraine to Birmingham, AL. They settled in a Crestline apartment and lived here for several years, Sergeui worked locally as a portrait painter. He and his wife, Nina, had two daughters. Ana Timtchenko went to Mountain Brook Junior High and Tatianna "Tanya" went to Crestline Elementary. Hopefully, some people reading this may remember them from school.
Unfortunately, circumstances developed in which they felt they needed to return to Ukraine. Fast forward to February 2022…the Russians attacked Ukraine. Ana now lives in Holland, but Tanya, who lives in Eastern Ukraine, had her home and business destroyed by Russian bombs. Miraculously, she and her husband and twelve-year-old son escaped unharmed and evacuated to Kiev and now to western Ukraine.
They have lost everything but a suitcase containing winter clothes. Out of desperation, Tanya wrote to someone her father worked with in Birmingham all those years ago. After a month's time, her letter was received. Several of us locally have started communicating with her via email. Her full name now is Vasilisa Tatianna Strelnikova.
She is excited to return to America, as her years in Birmingham and at Crestline were some of her happiest times. Friends have helped secure housing in Crestline, which is huge, but they still have many needs. They have no summer clothes, furniture, household items, or transportation.
Many friends have asked how they can help, so we started a fundraiser on GoFundMe, and created an Amazon registry.
GoFundMe
All funds raised through the GoFundMe fundraiser will be transferred to the family to help them with some of their immediate needs.
Amazon Registry
The Amazon registry has household items that they will need since they are starting from scratch. 
No amount will be too small. We are so fortunate to live in such a great country.
Thanks for your consideration.
-Kimi Blanton, Ellen Walker, and Jan and Charlie Carper