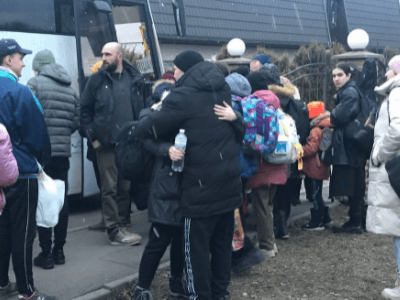 To the members of IPC, who have given so generously in 2022:
I hope you are doing well. I am sending you a detailed report below about how the funds we receive are being used. I also want to use this opportunity to express our sincere gratitude and appreciation to IPC for providing us with funds to cover the bulk of our expenditure and share a few photos and videos with you.
We couldn't have done all this without your support. We are very grateful indeed and thank the Lord for the opportunity to partner with you to reach so many suffering people in our country with God's love. We pray that the Lord will continue to bless our brothers and sisters in IPC and use them to reach more people.
---
CHURCH OF THE RISEN CHRIST REPORT
Vinnitsya, Ukraine
Expenses cover the period of March – June 10*
Overview:
In all more than 6000 people have been evacuated, given shelter, medical care, and meals.
More than 7000 families in Vinnitsya and other regions have received food packages, medical care, and clothes.
At the moment the number of IDPs (Internally displaced persons) who receive help from us is increasing every month.
Foodstuffs, medicine, personal hygiene supplies, power generators, and clothing is regularly sent to Mykolaiv, Kharkiv, Chernihiv, Kyiv, Donbass, and other regions of Ukraine.
25 volunteers and church workers plus up to 40 drivers are involved in our work.
In February- March, evacuation of people from various parts of Ukraine to the Western borders ( Hungarian, Moldavian, Romanian, Polish borders with Ukraine) were carried out by our Church by hiring buses with drivers for a particular fee, approximately 70$ per passenger. Our Church covered part of the cost or payed the whole amount for those who couldn't afford this fare.
From April- till present evacuation is carried out partly with "KidsSave" Ukraine. An NGO previously based in the city of Mykolaiv.
Our Church provides shelter, meals, food supplies, etc to evacuees, whiles KidSafe provides the drivers and buses for evacuation.
We are also daily providing lodging, and meals to 30-40 drivers from KidsSafe since they relocated from Mykolaiv to Vinnitsya in March because of the frequent bombing of Mykolaiv by Russian forces.
In addition, beginning from May evacuation is also carried out separately by our church using donated transport.
We have also provided protective gears, walkie-talkies, and other necessary equipment to drivers from our church, other volunteer services in Ukraine, and to some soldiers.
Humanitarian aid in the form of foodstuffs, medicine, medical equipments, hygienic items, mattresses, bedsheets, and sleeping bags, have been received from various organizations: Samaritan's Purse, Churches, and NGOs from Poland, Hungary, Moldova, Italy, Romania, and Germany.
Our Church also purchases medicine, foodstuffs, hygienic items, clothes for the needy
---
MORE MEDIA

100 days of war: Serving a war-torn Nation
YouTube Clip with pictures and short videos 
Photos
iCloud album with pictures and videos
The Hope Center
YouTube video with a detailed description of our needs and future plans 
---
IPC in Ukraine
IPC's long-standing mission partnership with Ukraine extends nearly 20 years of working alongside The Church of the Risen Christ in Vinnitsya, Ukraine, and Pastor "Fred" Anakia-Taylor. Since first visiting the country in 2002, the church and its Foundation have provided humanitarian and financial assistance. Read more»