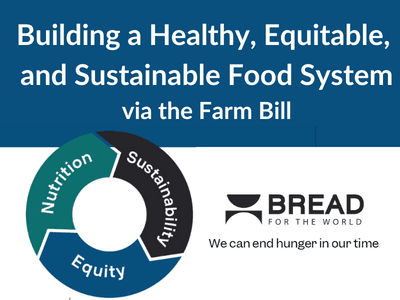 As people of faith, we are admonished by scripture to answer God's call to end hunger and to follow Jesus' example of compassion towards and action on behalf of the most vulnerable in our world. However, there is only so much we can do as individuals, which can be frustrating. One way we can increase our influence is by joining others in advocacy for government policies that diminish hunger and poverty.
Bread for the World is a non-profit Christian organization that advocates for policy changes that work to end world hunger. It also provides resources for individuals to participate in that advocacy. One of those resources is the "Offering of Letters," during which individuals write to their members of Congress about particular issues. IPC has participated in this Offering in the past, and we are excited to invite our members and friends to do so again. While Bread for the World is interested in hunger everywhere, at the moment we at IPC are focusing on the United States, and specifically on the reauthorization of the farm bill currently pending in Congress. No other legislation has more impact than the farm bill on the food system and the nation's ability to provide healthy food at affordable prices.
It is a tragedy that so many people experience food insecurity in the world's richest nation. Focusing closer to home, according to a recent study by the United States Department of Agriculture, Alabama is the 7th hungriest State. About 13% of our fellow Alabamans experience food insecurity. Even closer to home, 20% of Jefferson County children are food insecure, including most of the children in IPC's Summer Learning Program at the Children's Fresh Air Farm*. Only about 10% of Alabama's adults meet the recommended intake of fresh fruit, while fewer than 7% meet the recommendation for fresh vegetables. These deficiencies greatly increase the incidence of diabetes and other health-related conditions. The farm bill can help greatly to remedy these problems.
---
Join in on this national effort
Please join members of IPC's Bread for the World team in the parlor after the morning services on May 7 and 21, when you are invited to take part in the Offering of Letters. Get the information you need to help make a difference!
Resources