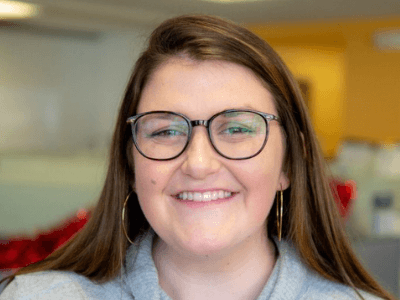 IPC welcomes Sarah Scruggs, our new Community Ministries Coordinator. Sarah joined IPC's staff on June 20 and jumped right into her new role. She is already hard at work serving our neighbors who are food insecure and connecting our congregation to a variety of community ministries. 
Keep reading to learn more from Sarah about her background and how she can help you use your God-given strengths through IPC's numerous ministries within the Birmingham community and across the world.
[IPC] What did you do before coming to IPC?
[Sarah] Before coming to IPC, I was living and working in Boston, MA while my husband earned his master's degree. I am originally from Auburn, Alabama, and went to college at Mercer University. I have worked in higher education and financial services in my previous roles, but I am excited to be working in the church for the first time since college!
[IPC] What are you most looking forward to in your new role?  
[Sarah] I am so excited to work with a team that provides such necessary services to our neighbors. Each day I have learned something new about the community here in Birmingham and the ways that IPC seeks to support them. 
[IPC] How can members contact you to learn about serving with IPC? 
[Sarah] I encourage everyone to reach out to me via phone (205 933-3725), email (sscruggs@ipc-usa.org), or swing by the Community Ministries office on the ground floor anytime during the week to talk about how you can use your gifts to serve our neighbors.
[IPC] Who inspires you?
[Sarah] Many members of my family serve as my biggest inspirations. My grandfather is gentle and kind, my grandmother is joyful and loyal, my mom is courageous and strong, and my siblings are both hilarious and thoughtful. All of these people have encouraged me on my Christian journey to live more like Jesus, which has impacted the way I interact with the world on a daily basis.
[IPC] What's one thing—either work-related or not—you have learned in the last month?
[Sarah] I had never heard of the World Games before making the move here earlier this month. I have been obsessed with learning the history and odd events at the Games. Did you know break dancing was a sport????
[IPC] What is your favorite hobby?
[Sarah] I have begun to really enjoy embroidery work. I am no professional, but I have some good fun with my designs! Of course, this is all a spring, summer, and winter hobby, since the fall is taken up with Auburn Football. War Eagle!
[IPC] What's the next place on your travel bucket list?
[Sarah] I just got back from a trip to the Northern California coast, and all I could think about was someday going to see the grassy coasts of Scotland. One day.
---
Contact Sarah Scruggs, Community Ministries Coordinator
Phone: 205 933-3725
Email: sscruggs@ipc-usa.org