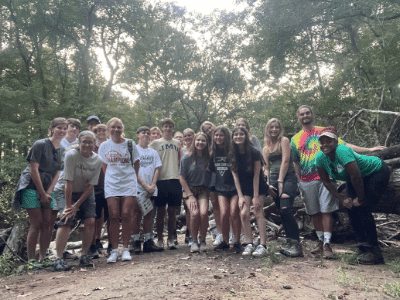 Each fall, we begin what I believe is one of the best programs at IPC, the Youth Grant Team. The group receives all grant requests submitted to the IPC Foundation for their review and has the opportunity to discuss and discern how best to allocate $20,000.
This year's team, comprised of 14 juniors and seniors, has been meeting since August. The students are selected via application and are asked to commit to each week of the 12-week process. Together they have reviewed 95 grant applications and cover letters. They have done additional research, shared their thoughts and convictions with one another, and made difficult, educated, heart-felt decisions about how to allocate their funds. In September, we began the site visit process.
Students spent five weeks visiting in person with organizations where they had a particular interest or further questions. The students are smart, articulate, curious, and thoughtful in their questioning and information gathering, and each site we visited followed up to say how much they enjoyed sharing with our youth and how exciting this process of introducing students to Christian philanthropy was. Following the site visits, the team will reconvene to make their final decisions.
The process culminates with a presentation on Nov. 8 at 6 pm at Highland Hall. All are welcome, and this is truly an event in the life of our congregation that you do not want to miss. We are so fortunate to have a congregation full of bright youth who are passionate about serving Christ's church in the community and the world.