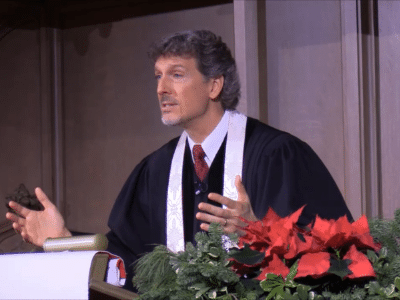 I have heard it said that the New Testament is in the Old Testament concealed, and the Old Testament is in the New Testament revealed. In other words, what has happened in the life, death, and resurrection of Jesus was in many ways foreshadowed throughout the story of Israel we read in the Old Testament. And when we read the New Testament and encounter the Savior, we discover what the Old Testament was really all about all along.
Throughout this season of Advent, I am going to be preaching a sermon series called, "Harbingers of the Savior," which will look at figures in the Old Testament who in some way point us toward the coming of Christ in whom all the many strands of Israel's story are gathered up and fulfilled.
We will kick off on Sunday, Nov. 27, with Joshua who had the difficult task of picking up Moses' mantle and leading the Israelites into the Promised Land. Then on Sunday, Dec. 4, we will look at the great prophet Elijah and his encounter with a poor, Gentile woman. On Sunday, Dec. 11, we will consider the tragic story of the mighty judge Samson, who was betrayed by the one he loved and who suffered at the hands of his enemies. Then we will finish up Advent on Sunday, Dec. 18 with King David, the ancestor of Jesus.
There are many things going on in the life of our church during the season of Advent. I hope you will take advantage of all that our church has to offer. Most of all, I hope that all of us will make worship a priority as we prepare to receive the greatest gift the world has ever known, the baby born in Bethlehem, the Savior of the world. And I hope to see all of you on Christmas Eve as I preach on the birth of Jesus in the town that left no room for a Savior.