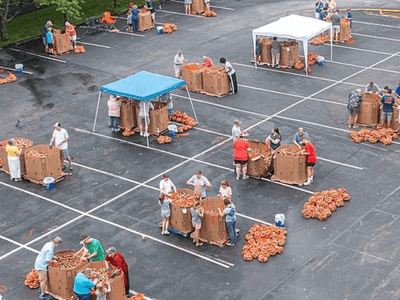 The Crop Drop is back and is even bigger than last year! On Sunday, October 16, our congregation will have a unique opportunity to join hands and hearts and sack 33,000 pounds of sweet potatoes to be distributed to our neighbors who struggle with food insecurity. 
Through a partnership with the Society of St. Andrew (SoSA) Alabama Gleaning Network, IPC will assist in their produce rescue and distribution program. Food that might otherwise be wasted is gleaned from farmers, sorted and sacked by volunteers, and distributed to agencies who provide food to those in need. Our work will help put fresh produce on the tables of our neighbors who struggle to feed their families. 
Last year SoSA Alabama rescued nearly two million pounds of food, which equates to 7.8 million servings of fresh produce, grains, and dairy that were distributed across our state. However, with hotter, drier weather affecting farmers' production, as well as increases in freight and transportation costs, SoSA has faced challenges in serving as many Alabamians as they have in the past. The IPC Crop Drop will be their first large load event of the year, and we want to answer the call! By volunteering for just a few hours, YOU can make a difference in the lives of our hungry neighbors. We need at least 120 volunteers to meet the demand of the event—can we count on you?
In addition to the impact that we can make in our community, the IPC Crop Drop provides a chance for members of all ages to come together in service. As the past few years have forced us to be apart more than we would have liked, we enjoy the opportunity to be together again. We hope to see participation from all corners of the congregation…whether you are 8 or 80. So please join us on Sunday, October 16, from 1-6 pm in the "big" church parking lot. Everyone (ages 5+) is invited to participate in this fun time of fellowship and meaningful mission work!
DEADLINE EXTENDED! Sign-up by Oct. 9
Register for our first or second shift.
First Shift: 1-3:30 pm (more volunteers requested this shift)
Second Shift: 3-6 pm
Learn More
Read our FAQs, and don't hesitate to contact us.