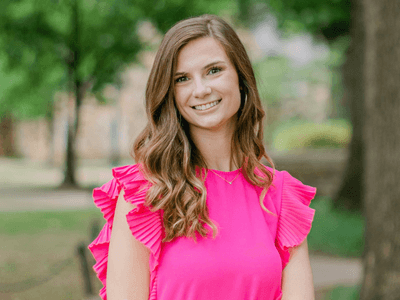 IPC is excited to have Margaret Lane Hollingsworth join our staff as the Adult and Family Ministries Communication Coordinator. Margaret Lane joined us August 15 and has been able to gracefully transition into this new position. She has concentrated on digital communication strategy and has enjoyed being able to support and connect with all of IPC's ministries.
Keep reading to learn more about Margaret Lane, her background, and how she can introduce all members and friends of IPC to new or existing ministries at IPC.
[IPC] What did you do before coming to IPC?
Before starting my position here at IPC, I was a psychology student at Rhodes College in Memphis, TN. My academic researched centered around consumer psychology, visual search efficiency, and digital strategy. I was also the communications intern at Advance Memphis for multiple semesters which is non-profit Christian organization that aims to break cycles of unemployment and promote financial stability to neighbors in South Memphis. The difference they continue to make in the Memphis area is truly inspiring.
[IPC] What are you most looking forward to in your new role?  
I look forward to seeing IPC grow through their online presence, community engagement, and daily ministries. I am overjoyed to have the opportunity to get to know staff, members, and friends of IPC so that I can better support their needs and vision for ministry areas.
[IPC] How can members contact you to learn about Adult and Family ministries at IPC? 
You can contact me via phone (205-933-3731), email (mhollingsworth@ipc-usa.org), or come by my office to chat anytime during the week (Room 203).  IPC has such a diverse range of ways to be involved and grow as a Christian, and I would love to help members get plugged in to group that fits them.
[IPC] Who inspires you?
My parents are my biggest cheerleaders and continue to inspire me to grow as a person and a Christian. Their marriage, their devotion to God, and their hearts to serve have set a great example for me and my three younger sisters. Through successes, trials, and failures, I know I can always depend on my family to be there with open, loving arms.
[IPC] What is your favorite hobby?
My favorite hobby has always been party planning. A creative party theme with over-the-top DIY decorations is what I am known for among friends. When I host, I usually cook a meal to share with guests and plan an activity or two after. I find a lot of joy in celebrating with friends for occasions big and small.
---
Contact Margaret Lane Hollingsworth, Adult and Family Ministries Communication Coordinator
Phone: 205 933-3731
Email: mhollingsworth@ipc-usa.org