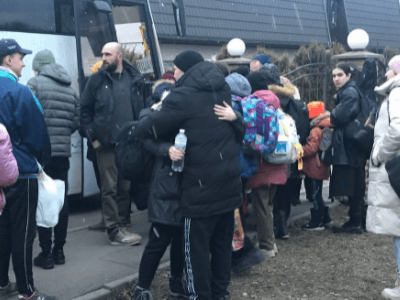 As the people of God, we are called to make a difference in the world in Christ's name. We are called to use the gifts and resources we have been given to serve our Savior Jesus Christ. After all, it's all really his anyway. And in giving it back to him, we experience a freedom that nothing in this world can give.
This church has a wonderful history of giving generously to the mission of Jesus Christ. This has been demonstrated recently by the more than $85,000 that was donated to help the people of Ukraine in their fight for freedom and justice. This Sunday, July 10, we have the incredible privilege of hosting Pastor Fred Ankai-Taylor from the Church of the Risen Christ in Vinnitsya, Ukraine, where most of that money has been sent, making a huge difference in the lives of many Ukrainians in Christ's name. Pastor Fred will be sharing a Moment for Mission during worship that I'm sure you will not want to miss. 
Also, mark your calendars for Saturday, August 20, from 2 - 4 pm when IPC will be hosting a citywide Ukrainian Freedom Festival in Highland Hall to celebrate Ukraine's Independence Day. There will be Ukrainian food to try and wonderful music by members of the Alabama Symphony as well as local Ukrainian musicians. The event is free, but hopefully, we can raise more money to help our brothers and sisters in Ukraine as Christ commands us and experience a little more freedom in Christ ourselves.